Follow TheFugitive for all the latest bodybuilding news, product reviews and tips on living a healthy life
Monday, July 30, 2012
Caffeine is widely known as a mild stimulant. People drink coffee or tea for a quick pick-me-up, or use an energy drink or over-the-counter caffeine pill to help them stay awake. Studies show that consuming caffeine may help your mental focus in addition to waking you up and giving you a temporary energy boost.
Definition
Caffeine is a naturally-occurring substance in plants like tea leaves, cocoa and coffee beans that acts as a mild stimulant drug when consumed by humans. The substance is found in popular foods and drinks, like chocolate, tea, coffee and cola soft drinks. About 90 percent of adults in the United States consume caffeine daily in some form, according to Jane Collingwood of the PsychNet website, and many experience wakefulness and increased mental focus.
Effects
Multiple studies show that caffeine improves mental focus, according to a 2010 research review by researchers from the Cochrane Injuries Group and the London School of Hygiene. Caffeine improved cognitive abilities and improved reasoning ability, according to the studies, and was more effective at increasing alertness than taking a nap. The drug, however, does not improve language skills and verbal ability.
Benefits
Improved focus from caffeine use has several benefits if the drug is used appropriately. Shift workers who use it to eliminate fatigue while on the job might make fewer mistakes and reduce the number of on-the-job injuries caused by fatigue and inattention, according to the Consumer Reports Health website. People who work regular hours but feel fatigued in the afternoon can improve their focus with coffee or other caffeinated beverages, and students can use caffeine to help them concentrate while studying for tests. The drug can also benefit people suffering from jet lag.
Drawbacks
Caffeine helps increase focus but can impair short-term memory, according to Collingwood. The drug also causes undesirable effects in some people, like anxiety and irritable mood. Caffeine taken in sugared beverages like soda or sweet tea, or eaten in chocolate, adds dietary sugar that can lead to weight gain. Using caffeine regularly to increase focus, then abruptly stopping the intake, leads to withdrawal symptoms like headache, fatigue and nervousness.
Warning
Although occasional caffeine use for increasing focus is harmless for most people, ongoing use of large amounts of it can have negative long-term effects. Heavy use may lead to a condition called caffeinism, which leads to anxiety, twitching muscles, headaches, sleeplessness, heart palpitations and gastrointestinal problems, Collingwood warns. Children should not consume caffeine because it affects them more strongly due to their smaller body size and can cause bad moods and negative behavioral effects.
Sunday, July 29, 2012
Whether you're pumping iron in an empty gym or jogging down quiet streets, exercising at night can be a relaxing way to end the day, but if you don't have enough energy left from the day, you can't get the most from your workout. Ingesting sleep-disrupting caffeine isn't the only way to prepare for an evening workout. Use natural methods to give your muscles and mind the boosts they need.
Exercising at Night
Regardless of your caffeine intake, nighttime exercise doesn't work for everybody. On one hand, working out can tire out your body and make sleep come more easily; on the other hand, some people might feel too wide-awake after exercise and struggle to sleep. According to the Mayo Clinic website, it's wise to use some trial and error to find the right time to exercise. Even if you have no problem sleeping after working out, try doing the same regimen at slightly different times of night and note when you feel most energized.
Eat for Energy
What you eat for dinner can either make you feel sluggish and sleepy or give you the energy you need for an evening workout. Avoid anything fatty or heavy, like steak or fried foods; it takes more energy to digest these foods, so you'll have less energy for exercise. Stay away from anything containing the amino acid tryptophan, like turkey, spinach, eggs and milk, which may make you feel sleepy. Eat complex carbohydrates, which give you energy, along with some protein to keep you full. Try dining on pasta with meat sauce, a peanut butter sandwich or a bowl of beef and vegetable soup with wheat crackers.
Warm Up
If you're tired, launching right into a run may be difficult. Warming up helps your body slowly adjust to exercise, and if you haven't eaten in a few hours, a warm-up gives your body time to start converting stored sugars into energy. The American Council on Fitness recommends doing a brief Pilates routine to energize you; try spending about five minutes doing leg circles and slow and controlled sit-ups. Jogging in place or jumping rope for a few minutes will also wake you up without tiring you out.
Other Energizing Ideas
Ask a friend or family member to exercise with you. Having someone to talk to can energize you and make exercise enjoyable. If you're working out on your own, use music to wake you up. Load your MP3 player with your favorite uptempo songs. Anything rhythmic or slow can lull you into sleepiness. Lights can also signal your body that it's time to be active rather than tired. Turn on all the lights in your home gym or find a lighted track or street with bright street lights to jog down.
Friday, July 27, 2012

One of the most popular devices has by far been the Samsung Galaxy Nexus. And while it's only been available for about 9 months or so, it appears we might now be seeing what the next Nexus

phone

might look like. For now, it's being called the Galaxy Nexus 2, which isn't of any surprise at all.
While we're not sure yet if it's made by Samsung or not, just by looking at it you can definitely see some resemblances to the devices that Motorola has made over the years. It would also make sense that Google might throw Motorola into the mix of the Nexus device makers with everything that it spent to acquire the company recently.
Below is the list of rumored specs that we could be looking forward to when we all sport one of these lovely beauties.
Super AMOLED display with 5 inch diagonal and 720p resolution

Corning Gorilla Glass 2 protection

32GB of storage

8GB of RAM

HSDPA 42 Mbps connectivity

microUSB 2.0 with MHL and USB on the go

WiFi

Bluetooth 4.0

Back camera is a 12 megapixel sensor with autofocus, LED flash and simultaneous HD video and image recording, touch focus, image stabilization and face and smile detection. 1080p video capture at 30 fps

2 megapixel front-facing camera with 720p capture at 30 fps

3200 mAh battery

Android Jelly Bean 4.1.1

Quad core Nvidia Tegra 23 quad core 2 GHz processor

GPU ULP GeForce
WOW!! That's about all I can say at the moment. Well, other than that I can't wait until a date is announced for this beast of a phone as I would really like to see about getting one of these. Oh, and did you see #4 on that list above ? 8GB of RAM ?!?! That's just crazy insane if it truly does come with 8GB of RAM. That will blow away a majority of home PC's now days.
Thanks go out to Killu-Chan for the mockup of this device. It's definitely a beautiful looking phone and I hope when it's finally made official that it looks just like this, or very similar.
I know a lot of Galaxy Nexus owners will be upgrading to this device, but the big question is this: How many of you current Samsung Galaxy SIII users will give up your new toy for this one ? Do you feel it's worth it ? Is it something you'd do at any cost just to have one of these shiny new Galaxy Nexus 2 devices when it finally hits the market ?
Blueberries may aid in fat loss, University of Michigan researchers reported in 2009, following a study in which they fed obese rats meals enriched with the fruit and found that they lost fat from their stomachs. The results may be due to the high level of phytochemicals, or naturally occurring antioxidants, found in blueberries. Blueberries are also low in calories, with only 84 per cup, according to the U.S. Department of Agriculture's National Nutrient Database. Replace high-calorie foods with blueberries, and you may lose weight.
Step 1
Choose blueberries that are firm and deep in color. Avoid those of dull hue and soft or watery in texture. Select those that are fully ripe to get the most antioxidants. Refrigerate blueberries as soon as you get home and use within 10 days
Step 2
Wash blueberries carefully and pat dry before serving. Washing removes pesticides, dirt, bacteria and dust. Purchase organic blueberries if you want to be sure your blueberries contain no pesticides.
Step 3
Include frozen blueberries in a breakfast shake. If the blender is plastic, soften blueberries first, so they will not damage the blender. You could also include bananas, strawberries, pineapples, yogurt or milk.
Step 4
Add fresh or dried blueberries to cold breakfast cereal or oatmeal. Choose whole-grain cereals to get more fiber, which can also help you lose weight.
Step 5
Layer yogurt and blueberries in wine glasses for a festive dessert. Choose non-fat yogurt to save calories.
Step 6
Top whole-wheat waffles with blueberries. Skip syrup and butter, or add only a small amount.
Step 7
Snack on blueberries. Add dried blueberries to trail mix. Or make a fruit salad, consisting of blueberries and other fruit.
Step 8
Add blueberries, along with mandarin oranges and peaches, to salads. Sprinkle fresh or dried blueberries over Waldorf, chicken or smoked turkey salads. Be sure to use light dressing.
Peyton Manning says it's going to take him a while to settle into his new digs in Denver after spending 14 years in Indianapolis.
He looked right at home in his new duds Thursday, though.
Manning's passes on the first day of Broncos training camp were as powerful and precise as ever, delighting his coaches, teammates and the 4,371 boisterous fans who crammed into the team's Dove Valley complex for their first glimpse of Manning in orange and blue.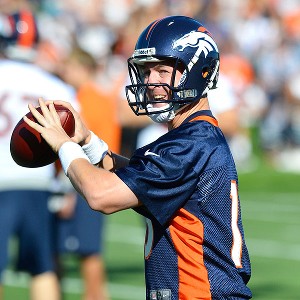 The biggest crowd for a non-stadium practice in team history watched Manning's first practice in front of fans in nearly two years.
"We had (Tim) Tebow last year and he brings out his own fan base," Champ Bailey said. "Just to see more people out here on the first day than I've seen in the past, it's great. I think everybody's starting to expect some good things from us."
The Broncos, without a winning season since 2006, welcome those high expectations.
"I mean, I've always been confident, but it does help when you have a four-time MVP as your quarterback," Bailey said.
The crowd greeted Manning when he ran onto the field, just as they welcomed Tebow a year ago, with huge cheers and chants.
"I'm going to tell you guys a funny story," defensive tackle and top draft pick Derek Wolfe said. "When we came out here today, I was right in front of Manning and I didn't know it. They made a pretty big fuss, and I was like, 'Why are they yelling so crazy for me?' Then I looked behind me and it was Manning standing there."
After starting his first 277 consecutive games, including the playoffs, Manning missed all of last year with a nerve injury that sapped strength from his throwing arm, required four neck operations, led to his teary departure from Indianapolis and spawned the biggest free agent frenzy in NFL history.
The Broncos prevailed, thanks largely to John Elway's pitch and patience. After signing Manning to a five-year, $96 million deal, the Broncos jettisoned Tebow and the option-oriented offense for a traditional passing approach built around the league's only four-time MVP.
All of the offseason practices were closed to the public, so some fans camped out overnight for the chance to see their new QB on Thursday.
They were rewarded when Manning put on an absolute clinic during a crisp 2½-hour practice.
"I thought it was a good first day," Manning said. "You can tell guys have been working. It's hot out here. We had a real good tempo."
Coach John Fox said Manning's work will be regulated during training camp and into the season, but he likes where his arm strength is and won't put any restrictions on the types of throws Manning makes.
"He didn't take the last five weeks off by any stretch," Fox said. "We're happy with where he is."
There weren't No. 15 jerseys dotting the crowd like last year. Nor was there an abundance of errant throws like last summer, when Tebow started out as Kyle Orton's backup before winning the job by default in October and leading Denver into the playoffs despite a 46 percent completion percentage.
There were plenty of No. 18 jerseys this time, many of which Manning signed after practice.
"I look forward to training camp because that means football season is getting closer and I do think this is important work for us," Manning said. "It's certainly important for me, in the two-a-days and getting multiple plays and multiple looks run against our defense."
Manning isn't looking back, either.
"I've kind of gotten past that part, and I haven't gotten too nostalgic about it," Manning said. "I'm glad to be here, glad to be playing with some really good guys and coaches that I enjoy. They really made me feel welcome, which I appreciate."
Fox said he has no overriding concerns about Manning's durability.
"Well, you worry about all players," the coach said. "Every time you go between those lines you're at risk. In answer to your question, I worry about all of them but not because of any past injury."
Manning, who has "stopped giving percentages" regarding how healthy he is, said he still has more rehabilitation ahead, but his goal remains to participate fully in training camp, preseason and the regular season.
Fox said Manning is a player who "raises all boats," with his work ethic and determination rubbing off on teammates on both sides of the ball. He said he saw that play out even in the offseason.
"Part of learning a profession, or getting better, or mastering, or improving in a profession, is watching guys who have done it very well or done it great," Fox said.
Running back Lance Ball said offensive players are driven to please Manning.
"He's a player/coach, so he wants things precise, he wants you to be at a certain point at a certain time, just know your stuff and just work hard," Ball said. "Guys put a little pep in their step. They want to make sure they're on point and right, and pleasing the coaches and also Peyton."
Cornerback Tracy Porter, who played the last four seasons with Drew Brees in New Orleans, said Manning makes Denver's defense better, too.
"Because facing him forces you to really practice and lock in and watch film and be on top of your technique," Porter said. "Because you don't want to go out to practice and have these guys seeing you out of position. Because they see things before it happens, those Hall of Fame quarterbacks. And you don't want to get the ball thrown at you that often in practice."
Manning hasn't played in a game since the Colts' wild-card loss to the New York Jets following the 2010 season.
"I have missed it, and I've never taken it for granted to be out there playing," Manning said. "... I've always felt very fortunate to be playing in a game for a living."
I've always been a huge Peyton Manning fan and wish him nothing but the best in 2012.